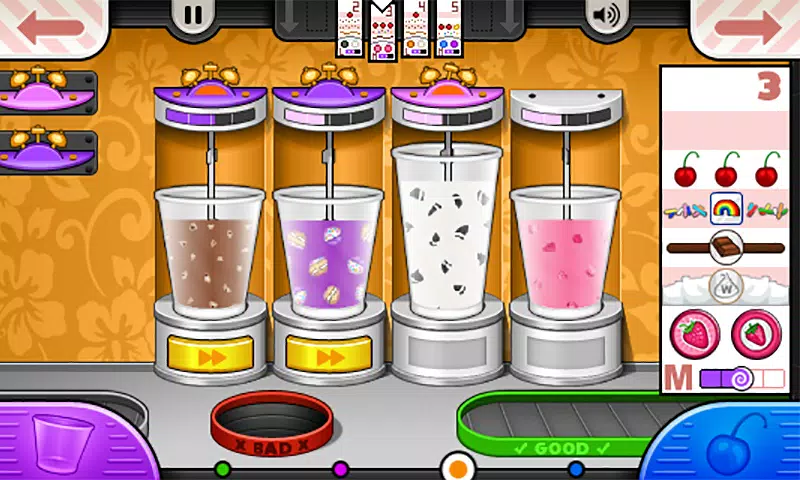 Are you ready to create and serve delicious sundaes at Papa's Freezeria? Do your best to please your customers and keep them happy and earn points to increase your level.
You've just started your incredible summer job in an ice cream shop. You will be required to offer customers the most delicious ice cream sundaes, and also earn tips based upon their reviews. Things can be chaotic when lots of customers visit the store all at once. Are you prepared to make the best desserts, keep your customers content and earn points to increase your sales? Papa's Freezeria 2 is an intriguing management game for ice cream shops. You need to run a restaurant for dessert during the time that Papa Louie is away. Customers can place orders and prepare the desserts exactly as they requested without making any errors. Make the sundaes customers like by pouring ice-cream, mixing in mix and syrups, mixing the ingredients, and finally adding toppings.
Ice cream shops is comprised of four distinct areas: Order Station, Build Station, Mix Station, and Top Station. As a participant you'll need to move between these sections of the establishment to prepare the sundaes that customers want.
Your aim is to make sure that your customers are satisfied so that you can gain points that will allow you to upgrade your level. As you increase your level, new toppings in the shop will become available and more customers will visit the Freezeria. A well-designed sundae will earn you tips and you can use those tips to purchase new decorations and upgrades for the lobby of the shop.
The game is fun and simple to grasp and play with, meaning that players from all ages can play the game. It's an amazing game from the Papa game series. Let's create Papa's Freezeria your very own Ice cream heaven.
It's a simple game to play and you'll need to switch across the four sections of the store to create delicious ice cream sundaes.
In the beginning, you must choose which character you would like to play. You can choose to play either Albert or Penny and also take orders from customers. Then, you'll go into the Build Station where you'll pour the ice cream and then mix it with mixables to make each dessert.
The next place you'll need to visit will be the Mix Station. This is where you mix sundaes till they're blended to the degree that your customers desire.
Then, make your way into The Top Station to add whipped cream and other toppings (don't overlook the cherries on the top) prior to offering the treat to the client.
While you play Papa's Freezeria, you'll find each of the stations in the game an interactive experience. All you need do is to drag and swipe and then click or tap to go through the process of making a sundae.
There will be difficult Food Critics and Closers who will be coming to your shop to taste the sundaes. They're picky consumers and will likely rate your sundaes less as compared to other consumers.